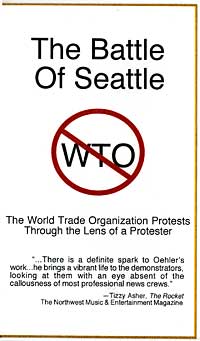 This is an on-the-scene report of the world-shaking protests to the World Trade Organization in Seattle in 1999. For the first time, but not the last, individuals from labor to youth arose to challenge word-wide mega-corporation power.
Frequently considered the best coverage of the protest, footage from this video was rerun on MTV-2.
Tizzy Asher of The Rocket, The Northwest Music and Entertainment Magazine, writes "There is a definite spark to Oehler's work ... he brings a vibrant life to the demonstrators, looking at them with an eye absent of the callousness of most professional news crews."
Cynthia Taggart of the Spokane Spokesman Review writes "It's the protesters' story, from colorful banners and college girls dancing to 'We got to beat, beat back the corporate attack' to eyes stinging with tear gas, appeals for peace and police shooting rubber bullets. ... captures the flavor of an American protest – a cultural mix of men and women in hard hats marching with students in bandannas, families in rain ponchos and vegan lesbians going topless. Drums and band music are everywhere. People are laughing, thrusting placards over their heads and shouting poetry ... These aren't exciting 20-second snippets on the nightly news. This story is from the midst of the crowd."