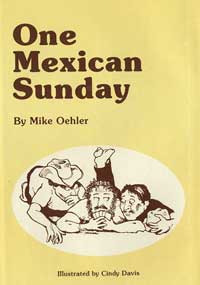 This is a warm, very funny account of the author's six months living among the rural Mexican working class in Baja California. It takes the reader into the lives of Third World peoples as perhaps none other. HERE IS WHAT BETH HARRIS OF PALM SPRINGS CALIFORNIA HAD TO SAY IN HER COLUMN IN THE DESART SUN, "We are pleased to introduce our readers to Mike Oehler's story, told with the warmth, love and empathy that is somehow reminiscent of Wilder's 'Our Town.'...In 1963 Mike Oehler lived in Mexico, trading the plastic and chrome style of the U.S. for life among the rural Mexican working class. His experiences in one single day result in a slim volume replete with humor and bursting with affection and insight...peopled with characters from Manuel, the laborer, to Goya the operator of a park for turistas, to Josephina the prostitute and more...portraits drawn from life. No details are spared...really good writing."

LEONARD RANDOLPH WRITING IN NEWSART CALLED IT, "a nearly perfect example of the good that can happen when a fine fiction/non-fiction writer decides to take the bit in his own teeth...It is a fine, highly entertaining, keenly observed account of Oehler's visit to Mexico in 1963. It has a 'cast of characters' equal to Steinbeck's memorable "Cannery Row." And they are treated with beautifully balanced understanding, the kind of insight a truly fine writer/observer brings to any subject dealing with human nature..."One Mexican Sunday", I am delighted to say, is a book you can put down – and then pick back up and resume your reading with unadulterated pleasure. Better still, it is a book you can read and re-read discovering something new each time...fine narrative impact and flow...rich in detail, skillfully written and produced...The series of wryly humorous line drawings by Cindy Davis are also fine...I admire the book in its entirety."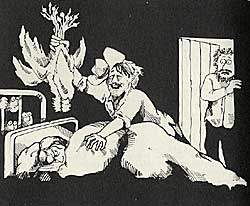 TRUE WEST MAGAZINE CALLED "One Mexican Sunday" a "delightful little book... It is a special book in that because Oehler was accepted by the people with whom he lived, he was able to see them as they were. The warmth, humor, and humanity of life in rural Mexico is captured in words...He tells of fishhead soup and crowded and tiny Mexican homes, but he concentrates on the people. The book is not only informative but good reading. He describes a lifestyle that most Americans will never know...Recommended."
JEFFERY GOLD IN THE ASHBURY PARK PRESSWROTE, "Just as knocking back a shot of tequila produces a jolt followed by a mellowing warmth, reading "One Mexican Sunday" produces a few belly laughs against a pattern of relaxed smiles.
"...written from the author's experiances...the book has great empathy for the Mexican peasants. This probably is because the author's easy going camaraderie – and avoidance of tourist traits – make him a good companion.
"He is supposedly renting a shack to do some writing and enjoy the cheap living. But he spends much time floating on the river (checking his lines), accepting food from his neighbors wife and drinking tequila with his neighbor, They compete at cards, women and vying to be 'the laziest man in Mexico.'
"Oehler's comic talent, achieved chiefly through dialogue, is reminiscent of Richard Brautigan's wit.
"'One Mexican Sunday' makes the simple life seem desirable, despite the villagers poverty. To earn money for a six-month stay in Mexico, the author can always hop back over the border. He doesn't flaunt this, however. As best he can, for a gringo, he is sensitive and caring about the people he writes about.
"The day he describes indeed seems sweet."
BURTON FRYE, IN HIS SYNDICATED COLUMN, WROTE, "Mike Oehler takes you on a wonderful trip. You can visit people so far below the social ladder that they look up to it as we might to a UFO. They have pride, joy, sorrow and fear and this book is a celebration of the indomitable spirit of humankind...this book affirms the truth that the poor have something that even the greedy cannot get away from them."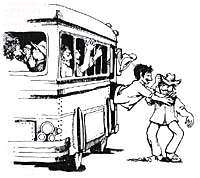 LARRY RUMLEY, SEATTLE TIMES BOOK EDITOR, DESCRIBES "ONE MEXICAN SUNDAY"AS, "...life at its grittiest, but also life full of very warm and lusty humanity...a rowdy, colorful and highly entertaining chronicle."
AILEEN PAUL PHILLIPS IN SANTA FE'S THE NEW MEXICANCALLS "ONE MEXICAN SUNDAY", "A beguiling tale...drawn with affectionate detail" and says of Oehler, "We will hear more from him I am sure because he has evolved a unique style for writing of life in this part of the world."
THE SAN JOSE, CALIFORNIA MERCURY NEWS BOOKS EDITOR, JIM JEFFRIES, WRITES, "It is a pleasant book, easy to read and admirably lacking in sentimentality and Third World rhetoric. It describes what I assume to be a typical Sunday among people who are getting all they can out of life, and Oehler suggests they distill the essence with considerable success; so much so, in fact, that the professional sympathy from north of the border begins to look like crocodile tears...
"Oehler's neighbors include Manuel, who has what you might call a sex problem. He has to have it regularly or – he tells anyone who will listen – he goes into severe pain. As you can imagine Manuel and his wife have a platoon of children. At the story's opening Manuel has another problem: a hangover. A man's hangover, as you must be aware, inspires a wide range of reactions in his family, but sympathy is not among them. Manuel, therefore, rattles Oehler out of bed and drags him over to the house to eat breakfast and serve as a sort of insult buffer.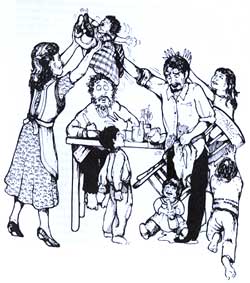 "So, Oehler starts his Sunday, and his book.
"All of the tiny details of this existence are etched lovingly, all the scenes are punctuated with the laughter of children and the crusty good humor of their elders...The time I should point out is 1963. Oehler never says whether the intervening years were required to perfect the manuscript or to sell it. It doesn't matter. The nature of this slice-of-life reportage is aloof from time and place."


One Mexican Sunday is single-day account of a young American writer who went to live in a non-touristy part of rural Mexico. It tells the story of the author and the extended Mexican family and friends that "adopted" him. Accurate to a fault. Lots of humor. Charming illustrations by Cindy Davis.
I've owned this book for years and regret that only recently did I get around to reading it, after beginning a long-term, live-in documentary project not too far away from where One Mexican Sunday is set. Oehler's book is the real thing, a relief from all the guidebook dreck that gets written about Mexico, particularly Baja.
When One Mexico Sunday came out, the piece got rave reviews. But it didn't sell all that well.
Too bad. Hope this helps.
Dr. Michael Trend (MY MOUNTAIN HIDEOUT NEAR LAS VEGAS, NEVADA)
.
Only $17.00 (hardcover only)
Order using our online form, by mail or by phone.